Integrate Chat API & SDK into Your Web & Mobile App
Launch in weeks (not months), build a whitelabel chat platform with Our APIs for any tech stack, use cases, devices, & browsers with 100% customizable, 150+ chat features & scale 1 Billion+ concurrent users.

200+ Companies has Chosen Us! Now, It's Your Turn
The world's leading brands built on MirrorFly Chat APIs

Driving Future-Centric In-app Chat API & SDK Features
More than just a chat API & SDK feature. It's timely. It's scalable. It's humanly
A Demo is Always Worth than Thousand Words
Quickly discover how CONTUS MirrorFly Chat SDK & API can work for you with a visual demo.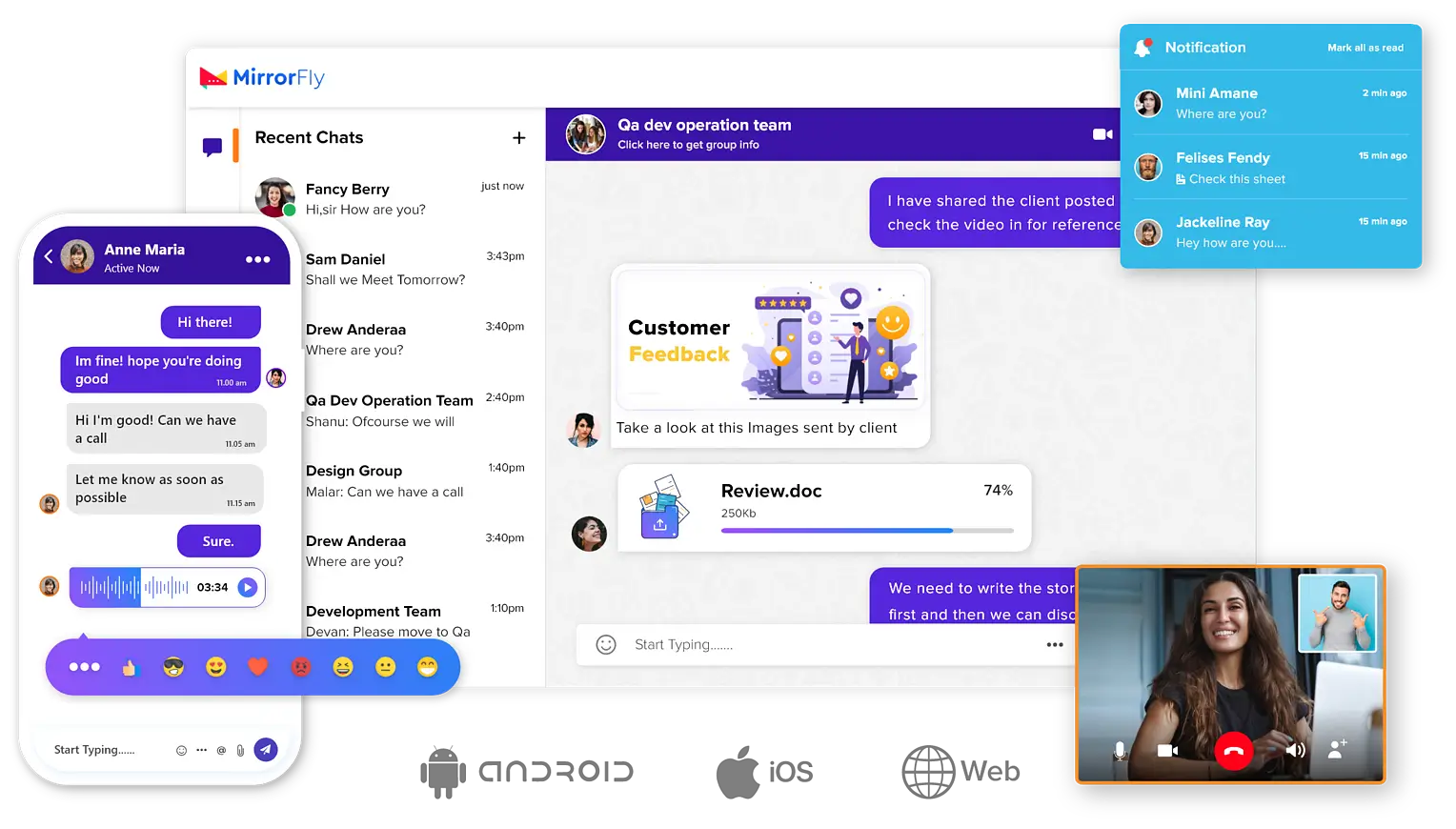 Why Choose

CONTUS MirrorFly?
Our Ready to go solution supports building a chat platform with add your company's color, custom features, and logo, to publish on Google Play or the App Store. Your app can be hosted on our hosting or on your premise or cloud.
One Time License Cost

Enterprise Architecture

On Premises/On cloud

White Label Solution

1M+ Concurrent Users
Design Enriched UI/UX

Quick Launch

Access to Source Code

300+ Messaging Architects

Data Protection and Security

Low Latency
Queries You Might Want To Ask
What's the Maximum Users' Limit in a Single Chat Room?
There's no limit or restrictions since MirrorFly supports unlimited users count, but when it comes to private chat rooms, the host or admin can restrict the user limit based on preference. In an open chat room, the admin can add up to a million users in one open chat room.
Can I Migrate Off from My Existing Data to MirrorFly Without Any Loss of Data?
Yes, with help of our 300+ engineers, our team can help you to migrate off from any existing chat application to a SaaP (Software-as-a-product) chat platform without any down-time, Data-loss and handling complex integration processes.
Does MirrorFly have Broadcasting of Messages to Thousands of Users At a Time?
With MirrorFly's channel, you can broadcast public messages to a large audience base. Our Channel supports up to 200,000 members to broadcast images, videos, or announcements to reach mass audiences at a time.
How Secure and Scalable is the MirrorFly Chat Solution?
Connecting millions of concurrent users is made simple with MirrorFly. Our messaging infrastructure can withstand billions of conversations at a time. MirrorFly Chat API & SDk is integrated with end-to-end encryption and security layers like AES-256 encryption, Signal Protocol, OMEMO Encryption, ECDH Key Exchange to protect every message relayed over clients' and MirrorFly's servers.
What's the difference between channels and groups in MirrorFly Chat API?
The groups are meant for sharing stuff and engaging with family, friends, remote teams and more. MirrorFly Chat SDK provides supergroup feasibility where a supergroup can have upto 100,000 members. A channel consists of more than 100,000 members, it's mostly used to communicate, engage with a massive audience or member base.
Does MirrorFly have Any Restrictions on the User's Count?
No, our messaging infrastructure is built to support millions of concurrent users exchanging messages simultaneously irrespective of bandwidth, channels, groups, and devices